[vc_row][vc_column width="1/2″][vc_column_text]
Technical Specifications ANTARIS 12.0 kW
Working grid feed in at 2.5 m/sec. wind speed after start up, depending on the repeller. Purpose built for inland areas with low untill moderate wind speed. From an average wind speed with 6.0 m/sec. we use a repeller with 5.8 m diameter!
Generator
Permanent-magnet rotor, brushless, gearless, maintenance-free
Extremely strong permanent magnets for a high level of efficiency (NdFeBo permanent magnets, resistent to temperatures up to 150° C)
Special ball bearings for reliably taking up radial and axial forces
3-phase current
Separate rectifier
Either direction of rotation
Voltage 0-1000 VDC
Start of feed-in at approx. 65 rpm
Power: 12.000 watts at 255 rpm and 500 VDC
Evenly rising power curve
Weight: 160 kg
Aluminium housing, surface cooling, base anchoring
Protection class IP56
Rotor
Hub connection with aluminium flange and pressure-relief plate
Stainless-steel screw connections with locknuts
Three rotor blades in glass-fibre / carbon-fibre laminate
Computer-designed aerodynamic profile
Winglets on blade tips to minimise noise
Approx. 6.50 m diamater (optionally 5.8 m > 6.0 m/s average wind speed)
Weight of each blade: approx. 14.0 kg
Dynamically and statically balanced
Direction of rotation anticlockwise viewed from front
Max. rotational speed 255 rpm
GRP spinner cap
Rotor colour to client specification
Support element comprising
Wind vane (weatherproof HDPE, off-white, slightly transparent)
Square stainless-steel tube as support element
All screw connections in stainless steel and fitted with locknuts
Steel bracket as support for generator, configured for plug-in connection with azimuth bearing, fully galvanised
Protected by patented rotor-blade positioning system
Mast adapter with flange connector (tube 220 mm)
Storm protection
Rotor-blade positioning ("helicopter position")
Voltage monitoring with 18.0 kW braking resistance
Generator short-circuit
Temperature monitoring from Alternator and Inverter
Control cabinet
Control system with Turbine Power Curve
3-phased grid-feed in with Smart!wind Inverter 10.0 kW
Control electronics with 3-phased turbine controller
Connections / plug connectors protected against polarity reversal
Controlling of the 3 alternator phases during turbinemode
Reset switch with key (removable)
Emergency-OFF switch
18.0 kW braking resistance
Rectifier, display etc.
[/vc_column_text][/vc_column][vc_column width="1/2″][vc_column_text]

ANTARIS 12.0 kW

size difference between ANTARIS 3.5 kW and 12.0 kW

The Alternator CK18 for ANTARIS 12.0 kW. 12.0 kW @ 255 rpm, max. 22 kW. Maximum power for wind, water and CHP!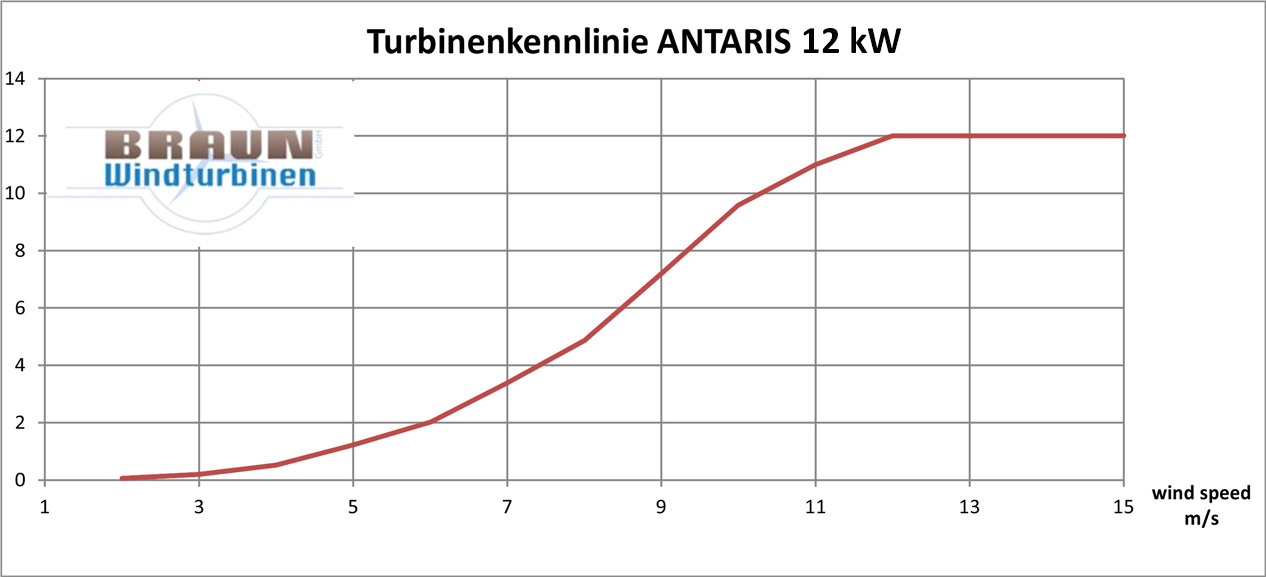 ANTARIS 12.0 kW Power curve

ANTARIS 12.0 kW production scheme
(Blue = Power per day, Red = Peak Power)[/vc_column_text][/vc_column][/vc_row][vc_row][vc_column][vc_video link="https://youtu.be/Ah-X5vW6RwM"][/vc_column][/vc_row]